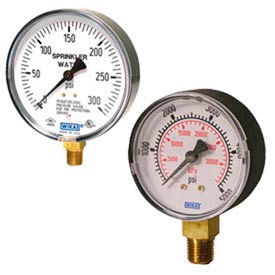 Wika® Black ABS Commercial Gauges
Wika® Black ABS Commercial Gauges Provide Reliable Service For Use With Pumps, Compressors And More.

Designed for long and dependable service under rugged conditions. Gauges feature lower mount connection. Wetted parts are made from a brass copper alloy. Black ABS case provides impact resistance. Removable snap-off acrylic window. Ambient operating temperature range is -40 to 140°F. Available gauge sizes are 1-1/2 , 2 , 2-1/2 and 4 . Choose from 1/4 or 1/8 NPT. Gauges are for use in applications where measured media does not corrode brass. Meets ASME Grade B standards.