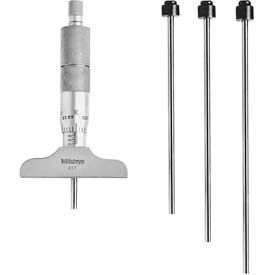 Depth Micrometers & Gages
Depth Micrometers Are Designed For Use In Manufacturing, Quality Control, Engineering, Testing, and Inspection Applications.

Depth Micrometers are made with satin chrome finishes and other high quality materials for strength and long lasting durability. Variety of brands and types available to meet particular need, application or budget requirement. Depth micrometers provide precise measurements for the interior or exterior widths of objects. Groove micrometer measures width, depth and location of grooves and flanges, both inside and outside of workpiece. Includes case for safety and storage. Variety of types and size ranges available to meet job requirements. Dimensions, features, color finishes and specifications vary per type. Quantity is 1.