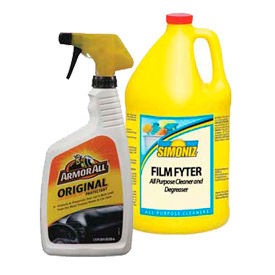 Vehicle Cleaners, Waxes & Polishes
Vehicle Cleaners, Waxes and Polishes Provide Convenient Vehicle Maintenance for Cars, Trucks, SUVs and more.

These cleaners, waxes, and polishes are specially formulated for efficient removal of dirt, grease, odors and scratches and for long lasting use and durability. Variety of types are available in either spray bottles, cans, or bottles to meet demanding vehicle cleaning requirements from heavy duty to general-purpose. Available in a variety of types and popular brands to meet job requirements. Container sizes, acceptable surface types, and package quantities vary per type.