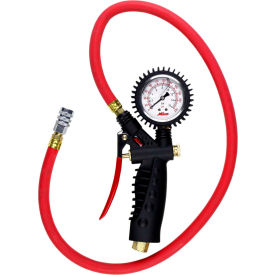 Milton Inflator Gauges
Milton Inflator Gauges are Heavy Duty for Repeated and Frequent Use in Extreme Industrial Environments for Vehicles of all Kinds.

Milton Inflator Gauges have a maximum working PSIs range from 0 - 255 and can be used for automobiles, sport utility trucks, bicycles, motorsports, trailers, motor homes, golf carts, lawn tractors, motorcycles, and more. Available styles include Analog Gauge, Bayonet, Digital Gauge, Pistol Grip, and Window. Types vary. Hose lengths are 12", 13", 15", 36", 3', 5', 6', 7', and 50'.