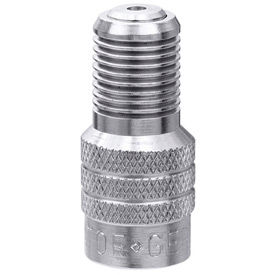 Double Seal Inflate Thru Valve Cap
V2B Double Seal Inflate Thru Valve Cap

Designed for high pressure truck tire service. Inflate, deflate or gauge directly thru theFlo-Thru Cap saving time during inflation and pressure checks. Automatic inflation systems lock right onto the Flo-Thru Cap. Seals like a high pressure cap, yet offers the convenience of an inflate thru extension. The Flo-Thru Cap performs like a check valve - the seal becomes tighter in the event of a core failure. Heat resistant grommets provide additional protection for extended high temperature running. Features tough all metal housing, precision fit brass components and durable self sealing O-Ring. This is the original inflate thru valve cap proven in millions of miles of service by the nation's largest trucking companies.