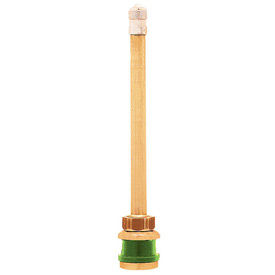 Ultra-High Temperature Truck Valve
Truck Valves For Drop Center Rims With 5/8" Hole.

Valve stems used on waste haulers, cement trucks, buses, and other vehicles generating high heat due to operating conditions are vulnerable to leakage at the grommet. The standard Myers valve stem has out-performed most other valves on the market in these applications, but some conditions are even beyond this range. Ultra-high temperature valves designed to operate at temperatures over 400° F. The valve is identified with a green grommet to distinguish it from the imitations on the market. Look for EHA on the valve stem and the green grommet to be sure.