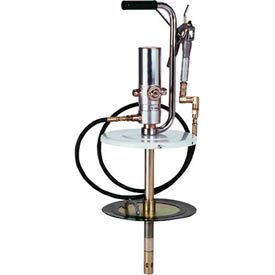 LiquiDynamics Grease Pump Kits
LiquiDynamics Grease Pump Kits Allow For Easily Maneuver Obstructions.

Grease Pump Kits secure drum to cart at top and bottom so maneuvering over obstructions such as hoses, floor cracks and tools is smooth. Kit includes 60:1 Grease Pump, Drum Cover, Follower Plate, Control Valve W/Rigid Tube and Four Jaw Coupler, "Z" Swivel, 1/4" x 12 ft. High Pressure Hose, and Two Wheel Cart. Available styles are Mobile Grease Kit and Portable Grease Pump Kit. Dimensions vary per model.