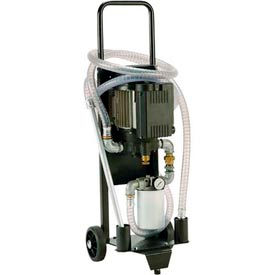 LiquiDynamics PureLube Filter Systems
LiquiDynamics PureLube Filter Systems Are Used For Filtering High Viscous Fluids.

PureLube Filter Systems are made of heavy gauge 1" steel, powder coated tubing for strength and long lasting durability. 10" pneumatic wheels provide easy control and movement. Standard equipment includes 5 GPM internal gear pump with 2 HP, 115 VAC motor, 1" x 10' suction hose with 4' probe, 1" x 15' discharge hose with probe, cam-lock hose connections, filter pressure gauges and probe/discharge nozzle retainer/drip catch system. Two Depth Filters plumbed in parallel provide a large surface area for very slow movement of fluid for effective filtration. Available styles are Absolute Filtration Cart, Absolute Filtration Cart w/ PowerMaster/Filters, Absolute Filtration Cart W/PowerMaster, Filter Cart, Hand Carry Absolute Filter Module and Oil Filter Cart. High Viscosity, Dual Inline Filters, Parallel Filters, Single Filters and Nominal Filtration available. GPMs vary from 5, 7, 20 and Variable. U/L Listed.