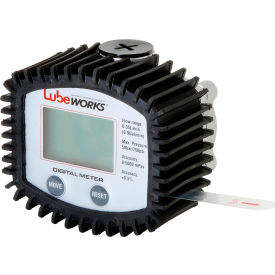 Oil Control Digital Meter
Lubeworks® B01N27CDQ1 Oil Control Valve Meter Nozzle 10GPM/35LPM

SPECIFICATIONS - This Lubeworks Preset Digital Control Valve has a Max Flow rate of 10GPM / 35LPM, at a precision of ±0.5%, handling Viscosity of 8-5000mPas, w/ a Max Pressure Range of 7Mpa 0.5-50BAR / 7-1000PSI. An Inlet Connection of 1/2" NPT Female connecting to industry standard oil hose reels & battery powered w/ 1x Alkaline Cell 9v Battery, all together weighing 3.6 lbs, including the Digital Preset LCD Meter & Flexible Spout.

EFFICIENT & SUPERIOR - This Preset LCD Digital Meter Control Valve has a 4-digit easy to read screen, w/low battery indicator to avoid sudden shut-off & can measure/dispense in various calibrations of Liters, Gallons, Pints & Quarts. Made w/ an aluminum frame + exterior ergonomic oil & waterproof polypropylene shell & shockproof rubber, to ensure strength & durability. Our compact design has zero back pressure capability, delivering consistent measurements & smooth dispensing during operation.

SAFETY & PROPER USE - Our Control Valves include rubber protection to absorb shock or an impact resistant polypropylene body, both delivering prolonged lifetime in workshops. Lubeworks Control Valves are only suitable for: oils, motor oils, synthetic hydraulic oil, gear oil & transmission fluids, w/ a MAX working temperature of -10°C/ 14°F to 60°C/ 140°F. Follow manual instructions for setup & always wear protective glasses/goggles or gear when operating lubrication/transfer equipment.

The Prestige LUBEWORKS Favor - Partner with us & join millions worldwide who empower their everyday lives, by using our Cutting Edge Equipment & Supreme Advanced Technology, to Conquer any task or obstacle. Arise & Gain Dominance over your 'Sphere of Influence' by starting here.

COMMITMENT - GreatCircleUSA is the only authorized seller of Lubeworks products & we are committed to providing customers with a stress-free shopping experience. Buy with confidence, we are ALWAYS here to help.