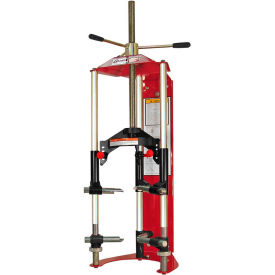 Strut Spring Compressor
Branick 7600 Strut Spring Compressor

Since the mid-80s we have been the tool of choice. Now the new OEM approved Model 7600 handles even tough applications like the Jeep Cherokee Trailhawk, RAV4, F-150 and GM pickups/SUVs... without the need for adaptors. The multi-position upper spring hooks are adjustable upt to 4 inches, in 1 inch increments, giving the Model 7600 the flexibility to fit difficult coil spring configurations while its long handles provide extra torque to make compression easier. With a structural ring gurard, better top nut clearance and a longer compression stroke, this is the best spring compressor on the market. Whether long, short, narrow, or angled, the 7600 will get it done. Made in the U.S.A. at Branick's manufacturing facility in Fargo, ND.