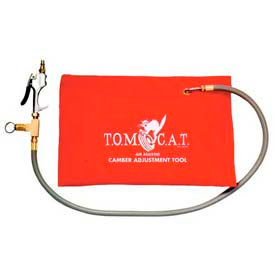 TomCat Camber Adjustment Tool
Tomcat Camber Adjustment Tool Is Essential For Vehicle Tire Maintenance In Automotive Garages, Car Dealerships And More.

Tomcat Camber Adjustment Tool features an inflatable air bladder that fits between tire and strut for easy and controlled adjustment to camber settings with wheels on the ground. Air control valve with low pressure pop off provides precise inflation and deflation. Camber adjustment tool works on many GM and Chrysler vehicles using tow-bolt lower and strut mounts to eliminate need for special tools.