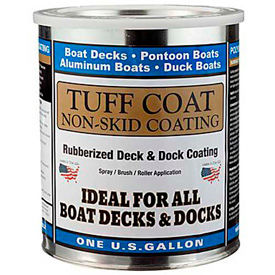 Tuff Coat Non-Skid Coatings
Safely Coat & Weatherproof Slick Surfaces

Tuff Coat is a high-performance, non-skid polyurethane safety coating that works to effectively coat and weatherproof a number of surfaces. UV resistant coating protects your boating surfaces, and employs a non-abrasive, crumb aggregate texture that can be sprayed or brushed on, according to how much texture you desire for a protected, non-skid surface. Tuff Coat is highly effective in absorbing noise, which makes it extremely handy in coating aluminum boats and skiffs, as well as lessening the noise in your truck, dock, deck, or ramp. 1 gallon covers about 40-45 sq. ft. Non-toxic and environmentally friendly (no VOC's). Protects against chemicals such as acids, solvents, fuels, chlorine, salts, etc. Dries to a quick, easy to clean finish. Recommended to be mixed with a drill type paint mixer. Rubberized Non-Skid Coatings are designed to be used in conjuction with Tuff Coat Primers and Roller Applicators (sold separately).