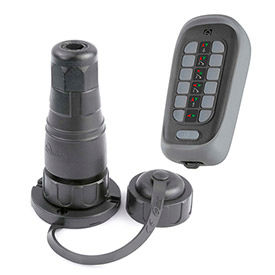 Quick Remote Controls for Winches & Windlass
Quick Remote Controls Allow Easy Remote Activation Of Winches And Windlasses.

Quick Remote Controls are available in a variety of models to suit winch and windlass needs. Quick Foot Switches are available in "Down" and "Up" functions. Available in black or white. Quick Hand Held Remote Controls range from 2-button up to 12-button models. Quick Pocket Remote Controls are available in 2 or 4 button models. Quick Radio Receiver Boxes and Quick Reverse Solenoid Contactors are sold separately.