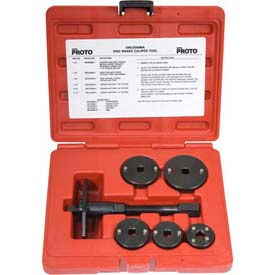 Proto Disc Brake Caliper Set
Proto® 6 Piece Universal Disc Brake Caliper Set
Universal brake caliper tool set assists in the replacement of pads on most vehicles with 4-wheel disc brakes.
Tool and adapters rotate brake pistons into calipers allowing clearance for newer, thicker brake pads.
Five disc sizes to fit most domestic and foreign vehicles, covers most: Honda, Ford, GM, Jaguar, Mazda, Audi, Chrysler, Nissan, Toyota, VW, and Subaru 4-wheel disc brake systems.
Hex end threaded bolt pushes adapter into caliper; smooth operation with wrench or socket.
Rugged blow-molded case.