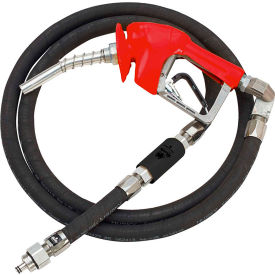 Husky Nozzles & Guards
Husky Nozzles & Guards Are Used For Heavy Duty Vehicle Maintenance Applications.

Husky Nozzles & Guards are pressure activated and heavy duty to provide long lasting durability. 3-Notch Hold Open Clip features NPTF threads, waffle splash guard and spout bushing to provide optimum performance. The VIIIS nozzle shuts off when the pump shuts off, the gas tank is full, the lever is opened before the pump is turned on or the leak detector has not completed the test cycle. The spout is reinforced with thick aluminum bushing that retains spout spring and keeps spout from rounding-in. Unique Flo-Stop device shuts off the nozzle if it falls from the fill tank or raises above the horizontal. The 177610-02 comes standard with smooth full grip guard and waffle splash guard. Available types and colors vary by model. Several styles and applications available.