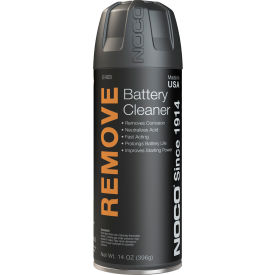 Battery Terminal Cleaners & Corrosion Preventatives
Battery Terminal Cleaners and Corrosion Preventatives Provide Battery Maintenance for Applications Including Automotive, Commercial, Maintenance, and more.

Battery terminal cleaners and corrosion preventatives are made of high quality materials for dependability. Cleaners and preventatives neutralize, dissolve, and remove battery corrosion from terminals, cables, hold-downs, boxes, and more. Formula does not dry or evaporate, reduces potential voltage leakage, and restores current flow. Environmentally safe and resistant to reversion, moisture, shock, and vibration. Package quantities are 2, 12, and 24. Sizes are 8 cc, 1 oz., 4 oz., 12, oz., 14 oz., and 5 Gallons.