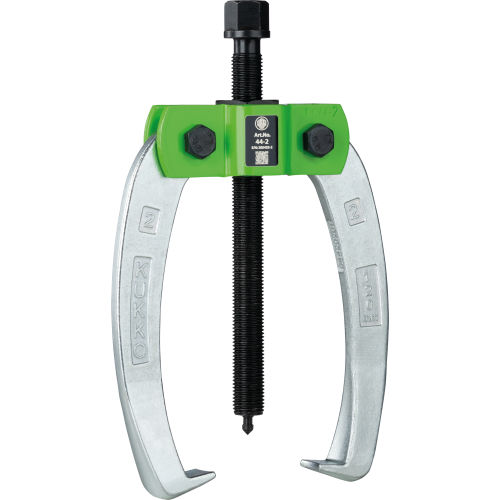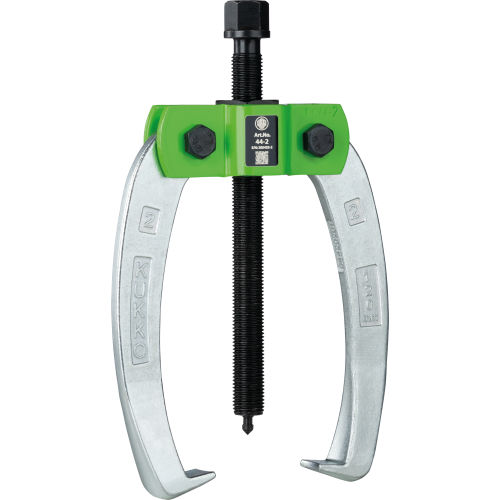 Model #: WBB2688923
MPN #: 44-2
Kukko 2-Jaw Self Centering Puller, 5.5 Ton Capacity 3/4" To 4-3/4" Open, 4-3/4" Reach
For removing bearings, gears, discs, etc.
Spindle head band prevents the wrench from slipping off.
Almost all components available as replacement parts, time-saving order process thanks to numbering system.
Standard pulling hook. Automatic self-centering pulling hooks. Two-arm design for space-saving operation. Optimal adjustment of the spindle to the shaft with 2-sided spindle tip (ball and tip). Mechanical pressure screw. Milled thread treated with special coating. The pulling hooks sliding parts must always sit stably and fully on the cross-beam. If several parts have to be removed, always follow a step-by-step process. Do not remove several parts at the same time. The pulling hooks support surfaces must always be straight and sit fully beneath the part to be removed. Do not use any electrical or pneumatic servo screwdrivers or hammer drills. Protective blanket required. Protective goggles required.
Space Below 3/8 "
Maximum Torque (Metric) 85Nm
Hexagon Drive (Male) (Metric) 17mm
Depth (Metric) 120mm
Space Below (Metric) 10mm
Space Next To It (Metric) 30mm
Spread (Metric) 18 - 120mm
Space Next To It 1 3/16 "
Maximum Load (Metric) 5t