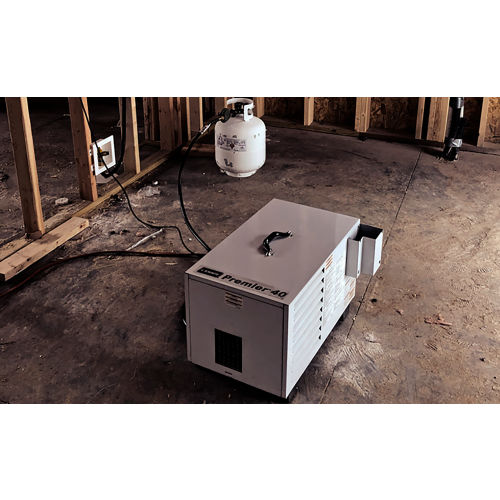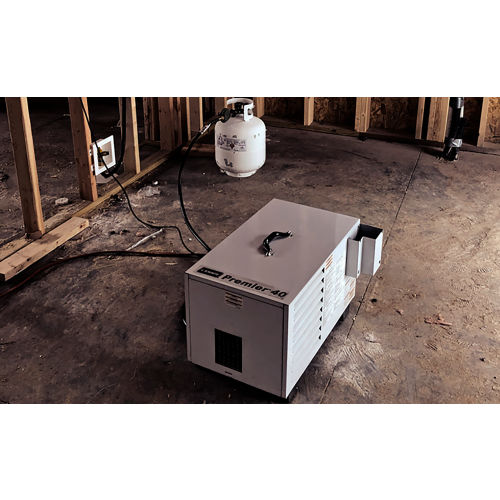 Model #: WBB3091082
MPN #: Premier-40
LB White® Premier® 40 Versatile Portable Gas Heater
was $1061.00
Save $335.00 (32%)
Ships in One Business Day
These versatile portable heaters are great for applications for the temporary heating of buildings under construction, alteration, or repair.* Use Premier® heaters in construction applications where an enclosed flame is important, and low noise is necessary to improve communication.
*Must have adequate ventilation per owner's manual requirements.
Premier® portable heaters can be used to provide temporary heat or simple air circulation. This portable heater can be used inside, or this temporary heat source can be ducted in from the outside. Select from LP (liquid propane) or easy-to-switch dual fuel models.
L.B. White has perfected every aspect of our portable Premier® construction heaters design to withstand harsh working environments. This has led to our reputation for reliability, durability and serviceability in the field. When the comfort and safety of your work crew is at stake…you want the leader in portable heating equipment for any commercial, industrial or construction job. L.B. White.
If you need help with proper heater sizing, please call our technical experts to help you select the correct size and quantity of heaters.
Features:
Heat outputs from 40,000 to 350,000 Btu/h
LP (liquid propane) and dual fuel models available
Versatile indoor and outdoor placement of heater
Direct-fired = 99.97% fuel efficiency
High volume of air output for maximum heat distribution
Dependable, electronic spark ignition
Switch fuels easily with simple valve turn on dual fuel units (Premier 80® DF Now Available!)
Tri-shield finish provides superior protection against abrasion and corrosion
Easy to transport
Vent mode for circulation of air
100% test fired at our plant
Two stage heat output (Premier® 350LP)
Remote start thermostat standard (1.4 ft cord for 40/80/80DF/170/170DF models, 20 ft cord for 350 DF model)
12' extendable ducting for 80 and 170 models (12" or 18")
CSA US and Canada certified