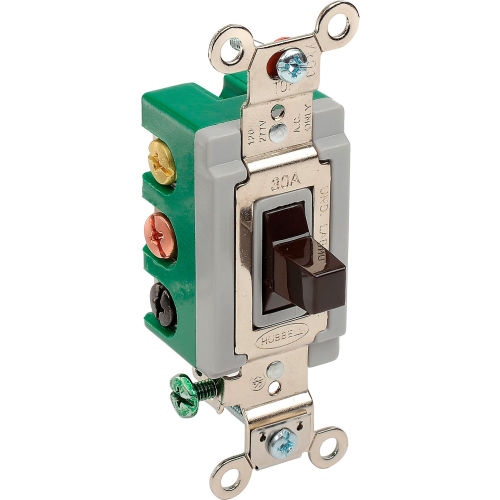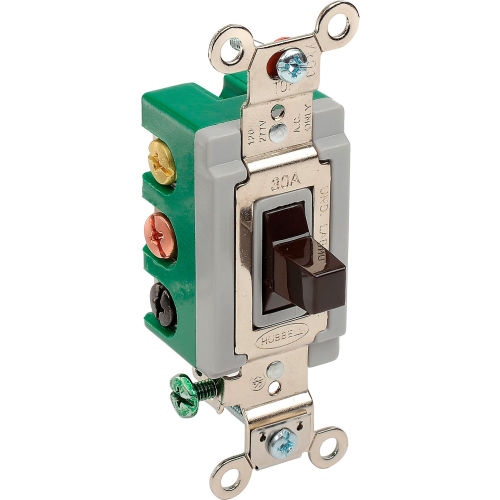 Model #: WBB211352
MPN #: 3025BRN
Bryant 3025BRN Toggle Switch, Double Pole, Double Throw, 30A, 120/277V AC, Brown
Special Purpose AC, Industrial Switches
Construction:
Base Material: Thermoset
Face Material: Thermoset, Color coded by voltage
Toggle/Actuator Material: Nylon
Terminals: High Performance Copper Alloy
Mounting Yoke: Brass and Nickel Plated Steel
Contacts: Silver Cadmium Oxide
Movable Contact Arm: High Performance Copper Alloy
Rocker: Thermoplastic Elastomer
Ground Terminal: Brass and Nickel Plated Steel
Terminal Screws: Brass
Ground Screw: Brass (green)
Auto Ground Clip: Stainless Steel
Technical Specs:
Dielectric Voltage: Withstands 1500V Minimum
Overload: Minimum 48 times rated current for 100 cycles
Temp. Rise: 30 deg C maximum at rated current
Max Continuous Current: 30A
Flammibility: UL 94 V2
Operating Temperature: Maximum continuous 75 deg C- Minimum -40 dec C (w/o impact)
Certifications:
Standards: Complies with UL 20 and NEMA WD-1.
UL Certification: UL Listed, File E1464, Guide #WMUZ. CSA approved.