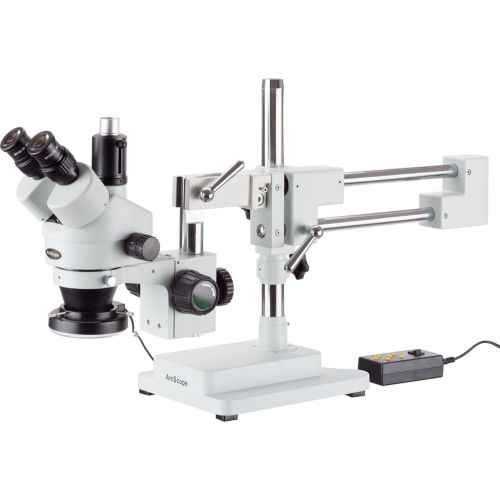 ITEM #: WBM1787936
MPN #: SM-4TZ-144A
AmScope SM-4TZ-144A 3.5X-90X Trinocular Stereo Microscope with 4-Zone 144-LED Ring Light
This is a trinocular 3.5X-90X zoom stereo microscope on a versatile double-arm boom stand with a 4-zone LED illumination, giving crystal clear sharp images and bright cool lighting illumination. It comes with a trinocular head with 30mm super widefield high-eyepoint eyepieces, a heavy-duty double-arm boom stand, and a 144-LED ring light with control box and dimmer. The microscope offers high resolution, super widefield of view, large magnifying zoom range (26:1) and long working distance (8", 200mm). Its trinocular port enables to add photographic or video capability. The versatile double-arm boom stand allows you to turn the microscope head around three different axis (x, y, and z). You can point the microscope head in ANY direction desired. The 144-LED ring light is lighting-direction changeable and lighting-intensity adjustable, providing cool, even and bright LED illumination. It features a separate control box allowing you to turn on/off each portion of the 4 light zones individually as well as changing the lighting direction so you may obtain the best images for your stereo microscope. This microscope is an ideal instrument for gemologists, engravers, collectors, manufacturing engineers and anyone in semiconductor and/or electronic industry. It is also a right microscope for biological laboratory applications that require low heat release.
Features:
3.5X-90X Continuous Zoom Magnification Power with a 4-zone 144-LED Ring Light
Intensity-adjustable Bright LED Cool illumination
Trinocular Design for High Quality Photo, USB PC and CCD Video Imaging
Upright Tube for USB Digital Camera, Video Camcorder or CCD Camera
High Resolution with Great Flatness and Contrast
Erect Stereo Sharp Images Over a SUPER Widefield of View
Accurate Alignment Ensuring Fatigue-Free Long Time Viewing
Crystal Clear Original True Color Images
45-Degree Inclined Trinocular Head with SUPER Widefield High-Eyepoint Eyepieces
30mm WF10X/20 SUPER Widefield Eyepieces
Both Ocular-Tubes with Adjustable Diopter
Adjustable Interpupillary Distance
Full Optical Glass Elements
Precise Ground Glass Lenses
8" (200mm) Large Working Distance
Versatile Boom Stand Covering Large Working Area
Double-Arm Design for 3-Degree Freedom
Able to Place Microscope Head Toward to Any Direction
Heavy-Duty Cast Steel Stand Finished with Stain Resistant Enamel
Rugged Solid Cast Steel Base
All Metal Mechanical Components
Rubber Eye-guards Included
Manufactured under ISO 9001 Quality Control Standard
Excellent Five (5) Year Manufacturer Warranty
Specifications:
Head: 45-degree inclined 360-degree swiveling trinocular
Eyepiece: 30mm super widefield high-eyepoint WF10X/20
Barlow Lens: 0.5X & 2.0X
Objective: 0.35-9.0X
Zoom Range: 26:1
Diopter Adjustment: +/- 5dp
Interpupillary Distance: 2-3/16" - 2-15/16"(55-75mm)
Working Distance: 8" (200mm)
Illumination: 144 white LEDs
Power input: 110-240V, 50-60Hz, Automatic Switching
Boom Stand: 20" double-arm (overall length: 30"), 17" high pillar, 10-1/4"x8-1/4"x2" solid cast steel base
Accessories: eye-guards
Review This Product
Help us improve your experience with this product.
Review This Product
Help us improve your experience with this product.
Get to know about this product from customers who own it.