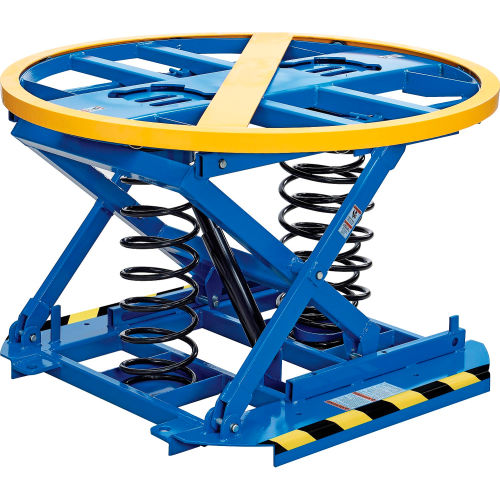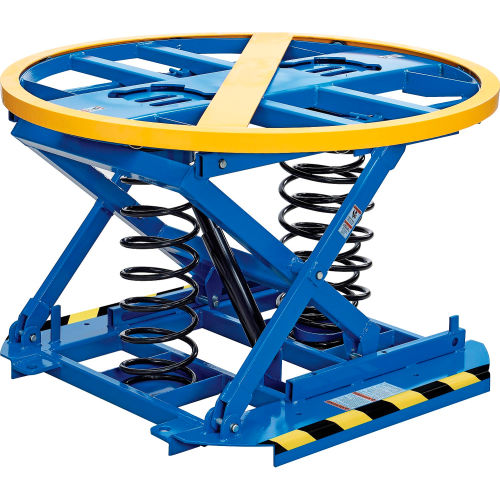 Global Industrial™ Spring-Actuated Pallet Carousel Skid Positioner
✓ Helps to reduce worker strain and risk of injury from lifting, bending, and stretching
✓ Full 360° rotational platform supports up to 4500 lbs
✓ Fork pockets allow forklift access

This ergonomic tool is ideal for building or unpacking pallet loads. A combination of heavy-duty springs and shock-absorbing dampener help maintain a constant working height without overshoot or spring bounce, lowering and raising the carousel as packages are removed or added. No power or air supply is required, and it is virtually maintenance-free. The 43-5/8" diameter turntable features low-friction bearings for smooth operation. Full 360° access allows for nearside loading without reaching, as the operator can step closer to the unit's platform to add or remove pallet loads. Wide, free-standing base features 36-5/8"L x 6"W x 2"H fork pockets for easy relocation by fork lift. Strong tubular steel frame with durable powder-coat finish for long life. 1-Year Limited Warranty.