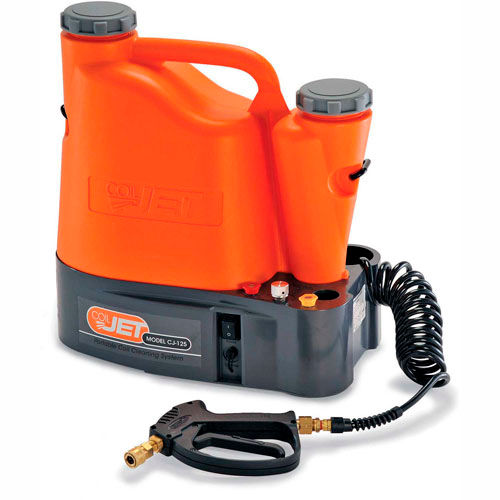 ITEM #: WBB2098796
MPN #: CJ-125
SpeedClean CJ-125 - CoilJet®; Portable HVAC Coil Cleaner System, 125 PSI, 0.6 GPM
SpeedClean CJ-125 - CoilJet® Portable HVAC Coil Washer System, 125 PSI, 0.6 GPM
Clean HVAC condenser coils and evaporator coils the fast way. The CoilJet® from SpeedClean is a complete portable AC coil cleaning system. It carries all the water and coil cleaner you need to clean up to five, 5 Ton units with 125 psi pressure. It is specifically designed for portable condenser coil cleaning and evaporator coil cleaning. It replaces the too powerful pressure washer – and the not powerful enough pump sprayer – to quickly clean coils without damage to sensitive fins. Even microchannel coils!
The CoilJet works on inside and outside HVAC coils. It produces 125 psi of coil washing power at about .6 gallons per minute water flow that won't overwhelm condensate lines inside. This means you don't have to pull evaporator coils out to clean the coils or use acidic and caustic "self-rinsing" sprays. Plus the integrated water and chemical tanks eliminate the need to drag hundreds of feet of hose to clean rooftop condenser units.
The rechargeable battery supply lasts up to 20 tanks on one charge. Optional accessory wands also allows for cleaning the evaporator and condenser coils from the back of units without removal of tape grate and fan blade. For best results add water and SpeedyFoam®, an alkaline, acid free, non-caustic biodegradable foaming coil cleaner that delivers penetrating foaming action. By combining industrial strength technology with a compact, durable design, CoilJet makes cleaning condenser and evaporator coils quick and easy.
Applications:
Residential and light commercial evaporator units
Residential and light commercial ground floor and rooftop condenser units
PTAC units
Cellular transmission tower AC units
Rooftop AC units
Attic evaporator coils
Refrigeration evaporator and condenser coils
Truck and food refrigeration like Thermo King units
Perfect for microchannel coils
Features:
Small, portable design makes it easy to clean HVAC coils in hard to reach areas such as PTAC's, rooftops, evaporators, refrigeration units and attics, where access to power and water is limited.
Powerful 125 psi spray will efficiently clean coil debris and grime from both sides of condenser and evaporator coils
0.6 gallon per minute flow rate won't overflow the indoor AC evaporator coil condensate line
Deep cycle, 12V Rechargeable battery makes it easy to clean virtually any coil, indoors or outdoors all day
Optional 8945 36" Spray Wand with 90° nozzle lets you clean coils from the inside out, forcing dirt and debris back in the direction it entered. Perfect for microchannel coils
Separate on-board water and cleaner tanks eliminate the need for dragging hoses or bulky pump sprayers to clean coils
Review This Product
Help us improve your experience with this product.
Review This Product
Help us improve your experience with this product.
Get to know about this product from customers who own it.