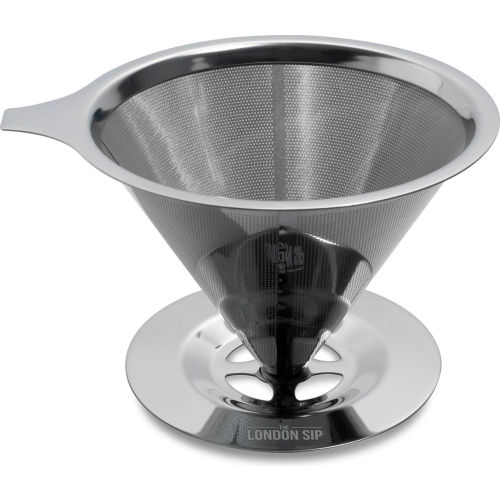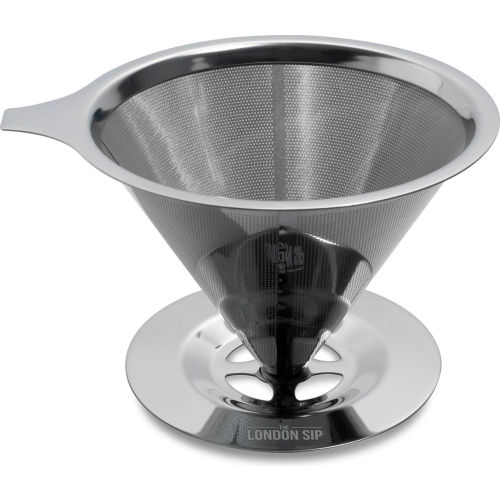 Model #: WBB3129941
MPN #: CD3
London Sip Coffee Dripper, 1-4 Cups, Stainless Steel, Black
was $34.95
Save $7.00 (20%)
Usually ships in 5 to 8 days
At the London Sip, our mission is to provide you with the highest quality tools to produce cafe-quality coffee and tea from the comfort of your own home. We have designed the perfect stainless-steel pour-over coffee dripper (manual coffee brewer) to allow you to enjoy great pour-over coffee at home or on the go. The stainless-steel construction will not impart any flavors into your coffee like other materials can for a great tasting cup of coffee every time. The dripper utilizes a reusable stainless steel coffee filter that is eco-friendly by eliminating the need for paper coffee filters. In addition to there being less waste, there is zero chance of opening your cupboard in the morning only to find out that you are out of filters and unable to make coffee. The larger size of the reusable filter allows the proper amount of grounds to be used for larger pours while leaving adequate room for the bloom and addition of water. The coffee dripper is extremely easy to use, does not require a specialty filter, and clean-up is a snap. The large base of the dripper easily sits on your cup or to-go mug; add coffee and pour hot water over the grounds. When the brewing process is complete you simply rinse out the dripper and enjoy your coffee. The London Sip 1-4 cup stainless steel pour-over coffee dripper is a perfect addition to your morning coffee routine allowing you to brew a great pour over coffee directly into your cup. This dripper is ideal for those who need to brew more than a single serving of coffee.

Meet the easiest pour-over brewer you will ever use. This stainless-steel manual coffee dripper is perfectly designed for home or on the go. The materials will not impart any flavors into your coffee allowing you to make cup after cup of fresh, café-quality coffee and tea for you and your guests.

You'll never have to worry about running out of filters or adding to landfills as this dripper utilizes its own stainless steel, reusable filter. The filter is large enough to hold enough grounds or tea for up to 4 cups, but is also perfect for a solo cup.
Simply place the large base on top of your mug or pot, add the desired amount of coffee and pour hot water slowly over the grounds. After the water has filtered its way through the grounds, you have a café-quality brew. And clean-up is a breeze. Just rinse out your dripper!

Delicious tea and coffee is now easier than ever with The London Sip Stainless Steel Coffee Dripper.