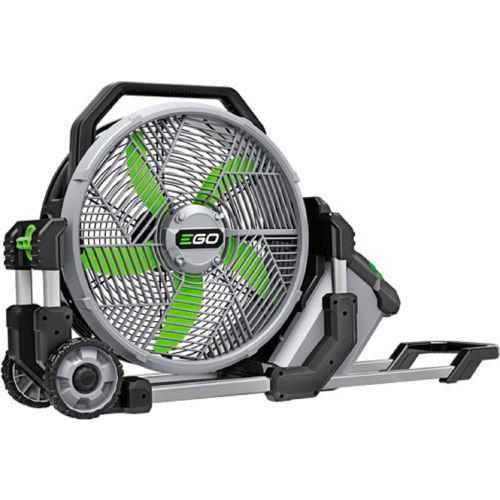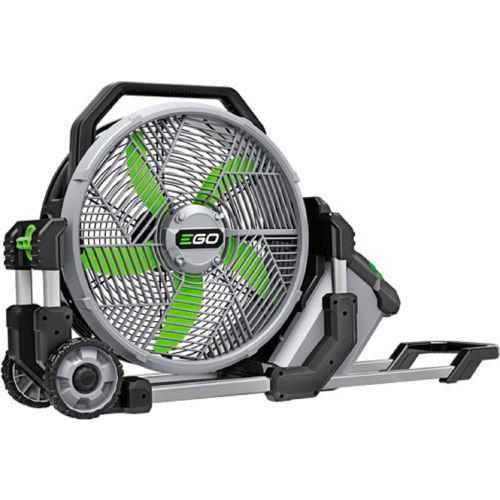 Model #: WB534848
MPN #: FN1800
EGO POWER+ FN1800 56V 18" Misting Fan
Introducing the EGO POWER+ 18" Misting Fan, the world's most powerful cordless misting fan. With air speeds of over 20 MPH, this fan has double the airflow of a standard 20" box fan. 5 different speed settings allow you to adjust air flow to your liking from 1,500 CFM to 5,000 CFM for ultimate control. With its telescopic handle and durable wheels, take advantage of superior portability.
Bring the POWER+ 18" Misting fan to sporting events, tailgates, beach days, patio hangouts, and more! Ideal for cooling down indoor and outdoor environments with quiet operations of just 68dB on speed 1. Simply drop the intake filter in a bucket and select from 2 misting modes to cool down an area equivalent to a large entertainment patio (540 square feet).
Stay cool longer with up to 60 hours of run time (on speed 1 with the recommended 5.0Ah ARC Lithium™ battery, available separately). Compatible with all EGO POWER+ ARC Lithium™ batteries (available separately) to deliver Power Beyond Belief™.
TECH SPECS
Up to 5,000 CFM
2x Air Flow Compared to Standard 20" Box Fan
Up to 60 hours of run time (on speed 1 with recommended 5.0Ah 56V ARC Lithium™ battery, available separately)
Travel Ready! Telescopic Handle and Durable Wheels
5 Air Speed Settings from 1,500 to 5,000 CFM
2 Misting Modes: Intermittent mode (best for effective water management) & Continuous mode (best for hot and sunny days)
4 Misting Nozzles
540 Sq. Ft. Cooling Area
68dBA (on speed 1)
225-Degree Angle Adjustment
Weather-resistant construction
Compatible with all EGO 56V ARC Lithium™ batteries
5-year tool warranty