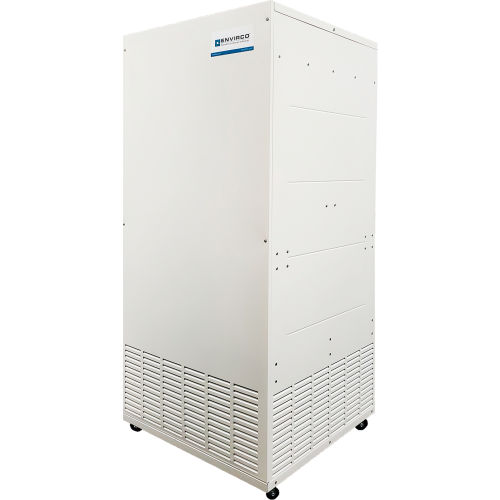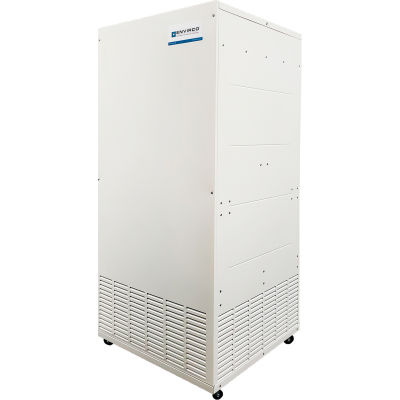 Model #: WBB3074380
MPN #: T272000-001
Envirco IsoClean CM HEPA Filtraton System, 99.97%, 115V, 640-1800 Sq. Ft., 1700 CFM, Variable Speed
The IsoClean CM is a portable, in-room high efficiency particulate air (HEPA) air filtration system that significantly improves indoor air quality. Each IsoClean CM comes equipped with two air filters; a MERV-8 antimicrobial prefilter to capture large pollutants and a Koch BioMAX HEPA filter that has efficiency to capture 99.97% of air contaminants @ .3 microns. Engineered to provide the optimum combination of efficient HEPA air cleaning with high air changes per hour, the unit helps minimize the spread of airborne particles. The unit has an efficient variable speed centrifugal blower with adjustable fan speeds to control the number of air changes per hour. The Isoclean CM HEPA air filtration system draws unfiltered air into the lower portion of the unit. The air then passes through a 2 inch MERV 8 antimicrobial prefilter before passing through a 99.97% efficient HEPA filter, which provides 99.97% efficiency on particles as small as 0.30 microns. IsoClean CM is capable of providing a large number of air changes per hour to continually improve the indoor air quality and minimize exposure to harmful virus size airborne particles. IsoClean CM is portable and can be rolled from one room to another. The small footprint easily fits into areas with limited floor space. The 115 volt unit plugs into a standard wall receptacle. Made in the USA.
Features:
Variable-Speed Adjustable Airflow: From 500 to 1700 CFM
High Room Air Changes Per Hour (ACH): 18-26 ACH in a typical 15' x 15' x 8' room
Quiet Operation: 48 dBA on low, 69 dBA on high
Flexible Applications: IsoClean CM can be used as a clean air recirculating unit or a negative pressure unit.
Small and Portable: IsoClean CM is on casters and can be rolled from room to room. Limited floor space is required
Simple Maintenance: Both the HEPA filter and prefilter are easily accessible for replacement
LED Light indicates when filters need to be changed
Review This Product
Help us improve your experience with this product.
Review This Product
Help us improve your experience with this product.
Get to know about this product from customers who own it.