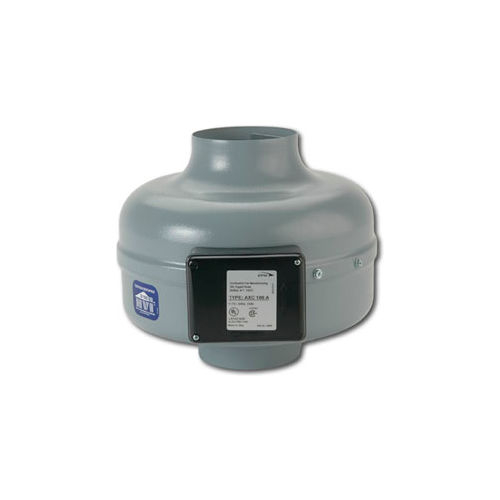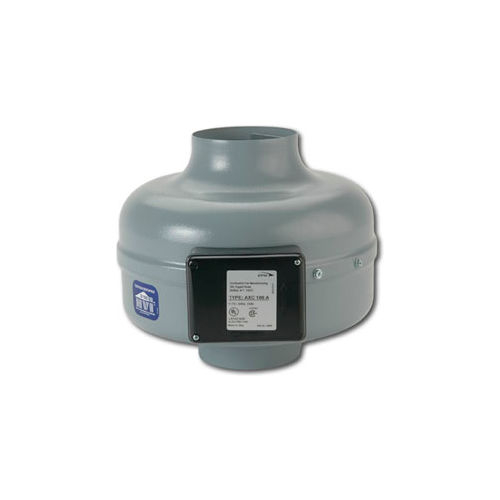 Model #: WB245979
MPN #: AXC100B
Continental Fan AXC100B In-Line Duct Fan 4"
IN-LINE RANGE HOOD EXHAUST FANS
AXC in-line duct fans are the ideal air movers for residential, commercial, and light industrial ventilation applications. The quiet and efficient backward-curved impeller is capable of developing significant pressure, and the in-line configuration simplifies installation, saving time and money! AXC sizes range from 4" to 14", with airflows ranging from 147 cfm to 1400 cfm. The unique motor design, combined with high-quality materials and workmanship, results in a truly versatile fan.
Features & Benefits of AXC In-line Duct Fans
Heavy-gauge, drawn steel housing with baked epoxy finish .
120V operation, other voltages available .
Easy to install – mounting brackets included .
May be mounted in any position .
Fans may be used to supply or exhaust air .
Suitable for air temperatures up to 140 F / 60 C .
Energy efficient – speed controllable (optional solid state speed control) .
Optional pre-wired with 120V power cord (AXC-C) .
Exceptionally quiet and efficient BC centrifugal motorized impeller .
External rotor motor design results in superior motor cooling and durability .
Permanently lubricated ball bearing motor for maintenance-free operation .
Automatic reset thermal overload protection .
Fan and motor are precision balanced for quiet and vibration-free operation .
Easily accessible, external junction box with pre-wired capacitor .
Five year warranty .
Fans are HVI certified for airflow and power at 0.2" SP.
AXC in-line duct fans can solve many air moving problems. They are designed to boost airflow through long or complex duct runs, and provide ideal solutions for areas that are hard to heat or cool.
Bathroom Exhaust
AXC in-line duct fans are the strongest and quietest bathroom fans available today. These fans allow the exhaust of multiple vents or bathrooms with one fan. They are user friendly, easy to install, and can be located directly over a shower.
Range Hood Exhaust
AXC in-line duct fans can be used as a principle exhaust fan, or as a booster fan to improve the efficiency of an existing residential range hood. These fans can be variable speed controlled by using an independent speed controller, or by tying into an existing range hood controller. The heavy gauge housing, with epoxy coating inside and out, provides a rugged fan with superior corrosion protection.
Duct Boosting
Many homes and office buildings have at least one area that presents a problem for heating or cooling. AXC in-line duct fans are designed to boost airflow through long or complex duct runs, resulting in better air comfort in the "problem" areas.