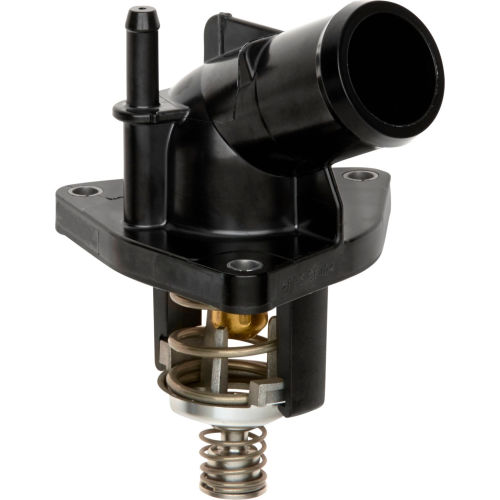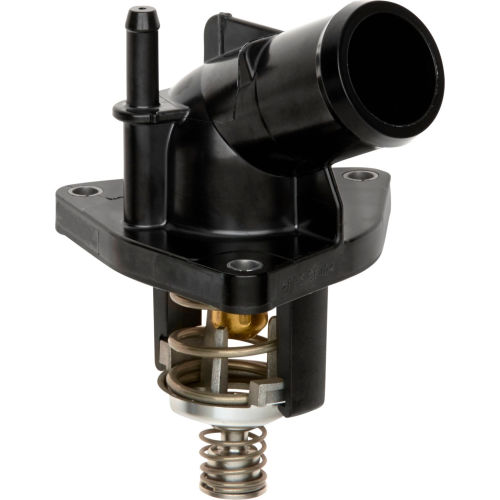 Model #: WBB2438337
MPN #: 34836
Integrated Housing Engine Coolant Thermostat - Gates 34836
Out of stock, please check back soon.
Integrated Housing Engine Coolant Thermostat
The thermostat water outlet assembly is the latest in thermostat design. It integrates design elements of both a thermostat and a water outlet. This allows for a simplified design since parts of the water outlet function as the thermostat flange. This also aids in installation because the orientation of the thermostat is fixed in place as the water outlet is bolted to the engine block.
Application Summary:
2018-14 Chevrolet, Silverado Series Pickup, V-8 5.3 L, Thermostat - Integrated
Vehicle Fitment: Make\Model Year(s)
Cadillac
+ Expand List
– Hide List
Escalade - Engine: V8, 6.2L, 6162cc, 376ci, FLEX 2015-2020
Escalade - Engine: V8, 6.2L, 6162cc, 376ci, GAS 2015-2020
Escalade ESV - Engine: V8, 6.2L, 6162cc, 376ci, FLEX 2015-2020
Escalade ESV - Engine: V8, 6.2L, 6162cc, 376ci, GAS 2015-2020
Chevrolet
+ Expand List
– Hide List
Cheyenne - Engine: V8, 5.3L, 5328cc, 325ci, ELECTRIC/GAS 2018-2018
Cheyenne - Engine: V8, 5.3L, 5328cc, 325ci, FLEX 2018-2018
Cheyenne - Engine: V8, 5.3L, 5328cc, 325ci, GAS 2018-2018
Cheyenne - Engine: V8, 6.2L, 6162cc, 376ci, FLEX 2018-2018
Cheyenne - Engine: V8, 6.2L, 6162cc, 376ci, GAS 2018-2018
Silverado 1500 - Engine: V6, 4.3L, 262ci, FLEX 2014-2018
Silverado 1500 - Engine: V6, 4.3L, 262ci, GAS 2014-2018
Silverado 1500 - Engine: V6, 4.3L, 4300cc, 262ci, GAS 2014-2016
Silverado 1500 - Engine: V8, 5.3L, 5328cc, 325ci, ELECTRIC/GAS 2014-2018
Silverado 1500 - Engine: V8, 5.3L, 5328cc, 325ci, FLEX 2014-2018
Silverado 1500 - Engine: V8, 5.3L, 5328cc, 325ci, GAS 2014-2018
Silverado 1500 - Engine: V8, 6.2L, 6162cc, 376ci, FLEX 2014-2018
Silverado 1500 - Engine: V8, 6.2L, 6162cc, 376ci, GAS 2014-2018
Silverado 2500 - Engine: V6, 4.3L, 262ci, FLEX 2017-2017
Silverado 2500 - Engine: V6, 4.3L, 262ci, GAS 2017-2017
Silverado 2500 - Engine: V8, 5.3L, 5328cc, 325ci, ELECTRIC/GAS 2014-2018
Silverado 2500 - Engine: V8, 5.3L, 5328cc, 325ci, FLEX 2014-2018
Silverado 2500 - Engine: V8, 5.3L, 5328cc, 325ci, GAS 2014-2018
Suburban - Engine: V8, 5.3L, 5328cc, 325ci, ELECTRIC/GAS 2015-2020
Suburban - Engine: V8, 5.3L, 5328cc, 325ci, FLEX 2015-2020
Suburban - Engine: V8, 5.3L, 5328cc, 325ci, GAS 2015-2020
Suburban - Engine: V8, 6.2L, 6162cc, 376ci, FLEX 2020-2020
Suburban - Engine: V8, 6.2L, 6162cc, 376ci, GAS 2020-2020
Tahoe - Engine: V8, 5.3L, 5328cc, 325ci, ELECTRIC/GAS 2015-2020
Tahoe - Engine: V8, 5.3L, 5328cc, 325ci, FLEX 2015-2020
Tahoe - Engine: V8, 5.3L, 5328cc, 325ci, GAS 2015-2020
Tahoe - Engine: V8, 6.2L, 6162cc, 376ci, FLEX 2019-2019
Tahoe - Engine: V8, 6.2L, 6162cc, 376ci, GAS 2019-2019
GMC
+ Expand List
– Hide List
Sierra - Engine: V8, 5.3L, 5328cc, 325ci, ELECTRIC/GAS 2014-2018
Sierra - Engine: V8, 5.3L, 5328cc, 325ci, FLEX 2014-2018
Sierra - Engine: V8, 5.3L, 5328cc, 325ci, GAS 2014-2018
Sierra - Engine: V8, 6.2L, 6162cc, 376ci, FLEX 2014-2018
Sierra - Engine: V8, 6.2L, 6162cc, 376ci, GAS 2014-2018
Sierra 1500 - Engine: V6, 4.3L, 262ci, FLEX 2014-2018
Sierra 1500 - Engine: V6, 4.3L, 262ci, GAS 2014-2018
Sierra 1500 - Engine: V8, 5.3L, 5328cc, 325ci, ELECTRIC/GAS 2014-2018
Sierra 1500 - Engine: V8, 5.3L, 5328cc, 325ci, FLEX 2014-2018
Sierra 1500 - Engine: V8, 5.3L, 5328cc, 325ci, GAS 2014-2018
Sierra 1500 - Engine: V8, 6.2L, 6162cc, 376ci, FLEX 2014-2018
Sierra 1500 - Engine: V8, 6.2L, 6162cc, 376ci, GAS 2014-2018
Yukon - Engine: V8, 5.3L, 5328cc, 325ci, ELECTRIC/GAS 2015-2020
Yukon - Engine: V8, 5.3L, 5328cc, 325ci, FLEX 2015-2020
Yukon - Engine: V8, 5.3L, 5328cc, 325ci, GAS 2015-2020
Yukon - Engine: V8, 6.2L, 6162cc, 376ci, FLEX 2015-2020
Yukon - Engine: V8, 6.2L, 6162cc, 376ci, GAS 2015-2020
Yukon XL - Engine: V8, 5.3L, 5328cc, 325ci, ELECTRIC/GAS 2015-2020
Yukon XL - Engine: V8, 5.3L, 5328cc, 325ci, FLEX 2015-2020
Yukon XL - Engine: V8, 5.3L, 5328cc, 325ci, GAS 2015-2020
Yukon XL - Engine: V8, 6.2L, 6162cc, 376ci, FLEX 2015-2020
Yukon XL - Engine: V8, 6.2L, 6162cc, 376ci, GAS 2015-2020
This product will be restocked soon
Upgrade or save on comparable products