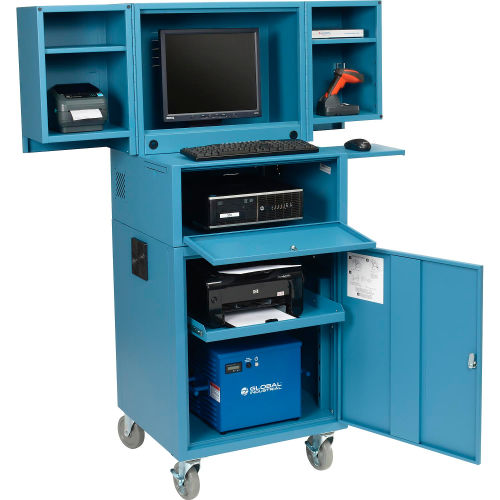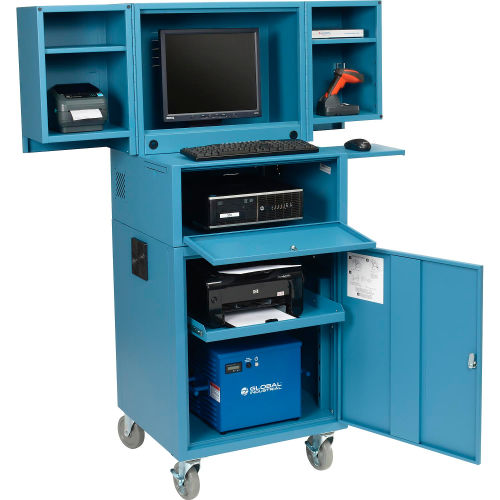 Global Industrial™ Mobile Powered Fold-Out Computer Cabinet, 40AH Battery, Blue, Unassembled
Select Color

✓ Powered battery provides run time of 6-8 hours
✓ Two fold-out storage cubbies double as a locking security enclosure.
✓ Powerful magnetic stops hold the cubbies in place.
✓ Includes front and rear locking doors for convenience.

Looking for a convenient and compact computer security cabinet? The Global Industrial™ Mobile Powered Fold-Out Computer Cabinet is a versatile and adaptable solution. It features two fold-out storage cubbies that double as a locking security enclosure. Each storage cubby has an adjustable shelf. Also featured are both left and right retractable mouse trays, providing even more work space. The middle locking cabinet can be used for storage or for your desktop PC. The middle cabinet interior is large enough for almost any desktop computer. The bottom cabinet also incorporates a front a rear locking door as well as a height-adjustable shelf for peripherals or other items. Moves on 4 industrial swivel casters (2 with brakes). All locks are keyed alike for convenience.



Includes: Fold-Out Computer Cabinet (Top, Middle & Bottom), Portable Power System, AC Fan Kit
Overall Dimensions: 24-1/2"W x 22-1/2"D x 61-1/2"H
Each storage cubby interior: 12"W x 11"D x 16-1/4"H
Monitor interior: 24-3/8"W x 10-1/4"D x 19-1/2"H
Mouse tray: 10"W x 7-3/4"D
Middle cabinet interior: 24-3/8"W x 9"H x 21"D
Lower compartment interior: 20-3/4"W x 21"D x 23-1/4"H


Battery specs:

3 electrical and 2 USB outlets
Sealed Lead Acid
115V outlet type
1000W Continuous Output Power
2000W Surge Power
13000 Wh Battery Bank
Operating Temperature: 32-95° F


Optional Accessories:

CPU Side Cabinet: Item# 253700BL


Battery is not waterproof.
This mobile powered cart cannot charge and be used at the same time.