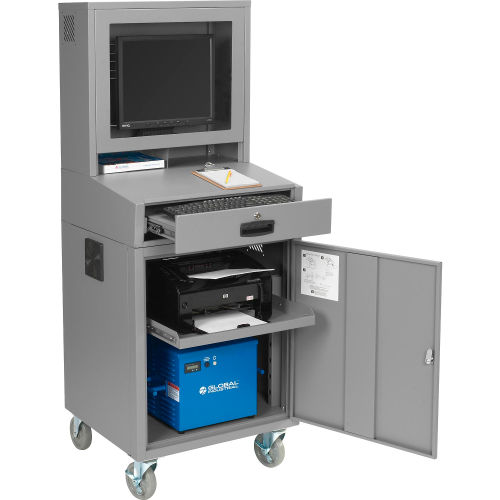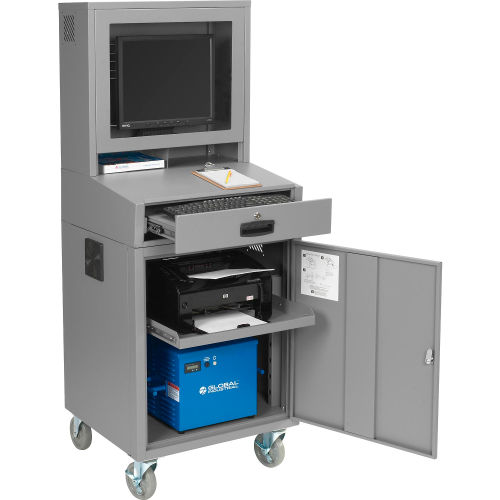 Global Industrial™ Mobile Powered LCD Computer Cabinet, 40AH Battery, Dark Gray, Unassembled
Select Color

✓ Powered battery provides run time of 6-8 hours
✓ Portable compact footprint
✓ Integrated outlet power strip with 3 electrical and 2 USB outlets
✓ Cord wrap & side carrying handles

The Global Industrial™ Mobile Powered LCD Computer Cabinet is a conveniently powered and rechargeable workstation for LCD flat panel monitors up to 24" diagonal. The design of the enclosure physically helps protect your computer equipment and data from surrounding hazards, vandalism, and insider hacks. Highly ideal for businesses that wish to conform to Payment Card Industry (PCI) Compliance with physical protection. Also perfect for use at construction, manufacturing facilities, or libraries. The locking monitor compartment in the enclosed computer cabinet includes a break-resistant window framed in heavy-duty steel. Window panel is removable which gives easy access to touch screen monitors. The computer cabinet unit comes with a convenient sloped writing surface and 2 organizing compartments for 8-1/2" x 11" papers. Lower compartment has front and rear doors. Cable management openings throughout. Rear panels are louvered to regulate heat. Moves on 4 industrial swivel casters (2 with brakes). Powder coat finish.



Includes: LCD Computer Cabinet (Top & Bottom), Portable Power System, AC Fan Kit
Overall Dimensions: 62-3/4"H x 24-1/2"W x 22-1/2"D
Upper compartment interior: 24"W x 9"D x 19-1/4"H
Lower compartment interior: 20-3/4"W x 21"D x 23-1/4"H
Locking slide-out keyboard drawer: 19-1/2"W x 17-3/4"D x 2-1/4"H
Pigeon hole compartments: 11"W x 9"D
Work surface: 24-1/2"W x 13"D
Monitor window opening: 18-1/2"W x 15"H


Battery specs:

3 electrical and 2 USB outlets
Sealed Lead Acid
115V outlet type
1000W Continuous Output Power
2000W Surge Power
13000 Wh Battery Bank
Operating Temperature: 32-95° F

Optional Accessories (sold separately):

Side Shelf Kit (Set of 2): Item# 237368DG
Sliding Mouse Tray: Item# 273113
CPU Side Cabinet: Item# 253700GY

Please Note: Cannot install both side shelf and CPU side cabinet to one side of computer cabinet.

Battery is not waterproof.
This mobile powered cart cannot charge and be used at the same time.