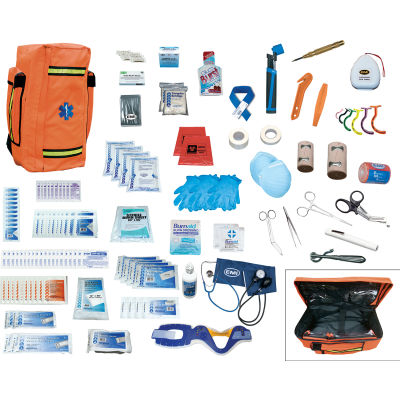 Model #: WBB3108206
MPN #: 486
EMI Pro Response™ Backpack Complete
was $385.00
Save $32.05 (8.32%)
Usually ships in 5 to 8 days
Pro Response™ Backpack Complete;The pack is very durable and lightweight, yet compact. One large clear vinyl panel can organize airways, intubation equipment, instruments, etc and can be removed and replaced again by Velcro. The pack also has two windowed removable field packs (one large, 11"L x 3"W" and one small, 5-1/2"L x 3"W), two zippered mesh pockets, and two large side pockets. The Pro Response™ Backpack can accommodate C or D oxygen cylinders, which are held securely in place with Velcro straps. High-density padding is used for back support. The pack includes a carrying handle, tuck away straps and waist belt for stability. Made of 1000 Dennier Nylon and measures 23"L x 12"W x 9"L. Weighs approximatelty 19 lbs.
Pro Response Backpack Includes:
EMS SUPPLIES
AIRWAY MANAGEMENT
(1) Box Sting Swabs
(1) Disposable Airway Kit
(10) Alcohol Prep Pads
(1) Lifesaver CPR Mask Kit
(1) Eye Wash (4 oz.)
(1) Plastic Bite Stick
(4) Instant Ice Packs (5" x 9")
(20) Antimicrobial Hand Wipes
BANDAGES AND DRESSINGS
(1) Instant Glucose
(1) Multi Trauma Dressing
(10) Triple Antibiotic Ointment
(1) Sterile Burn Sheet
(10) Povidone Prep Pads
(2) Triangular Bandages
(10) Ammonia Inhalants
(1) 1⁄2" Adhesive Tape
(1) 1" Adhesive Tape
EMS EQUIPMENT
(2) 3" Sterile Conforming Bandages
(1) Cervical Collar
(2) 4" Sterile Conforming Bandages
(1) Thermal Rescue Blanket
(1) 3" Elastic Bandage
(2) Bio Hazard Bags (10"x12")
(1) 4" Elastic Bandage
(6) Nitrile Gloves
(1) 4 1⁄2" Krinkle Gauze Roll
(2) Molded Surgical Masks
(10) 3" x 3" Sterile Pads
(1) Tourniquet
(20) 4" x 4" Sterile Pads
(1) Adult Nylon Blood Pressure Cuff
(4) 5" x 9" Abdominal Pads
(1) Dual Head Stethoscope
(4) Eye Pads
(1) EMI Splint
(1) Box of 1" x 3" Adhesive Bandages
(1) Lifesaver Plus Seat Belt Cutter
(1) Burnaid Dressing 8"x 8"
(1) Window Punch
(2) Burnaid Dressing 4"x 4"
(1) Finger Ring Cutter
(1) Starpower™ Flashlight
(1) Instrument Pack: 4-1/2" Splinter Forcep,
5-1/2" Bandage Scissor, 5-1/2" Straight Kelly
Forcep, Deluxe Shears, Penlight
Review This Product
Help us improve your experience with this product.
Review This Product
Help us improve your experience with this product.
Get to know about this product from customers who own it.