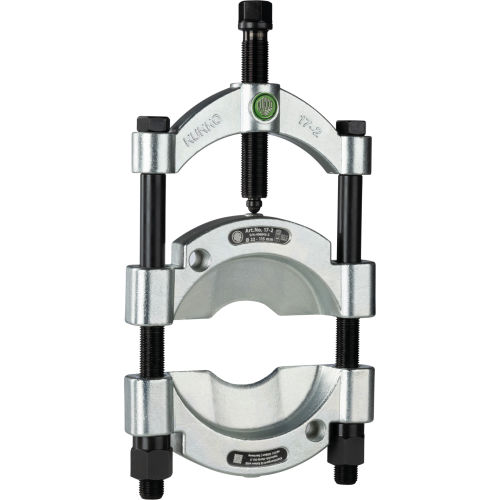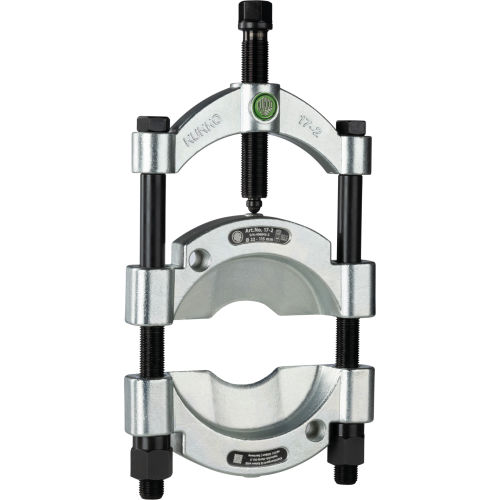 Model #: WBB2688846
MPN #: 17-2
Kukko Separator W/Single Clamping Spindle 7/8"(22mm) To 4-1/2"(115mm), Used W/18-2 Pulling Device
For removing ball bearings, roller bearings, inner races and other tight parts if there is not enough space to use pulling hooks.
Easy to use, as the separator jaws are quickly and centrally tensioned with just one pressure spindle.
Ultimate stability when removing, as the separator and pulling device are screwed firmly together.
Almost all components available as replacement parts, time-saving order process thanks to numbering system.
With quick-clamping pressure spindle. The sharp blades enable flush parts to be removed where pulling jaws cannot be used. The wedge-shaped separator jaws are secured underneath the component to be removed. The large supporting surfaces protect the parts to be pulled. For use with series 18. If several parts have to be removed, always follow a step-by-step process. Do not remove several parts at the same time. The separator blades support surfaces must always sit fully beneath the part to be removed. Do not use any electrical or pneumatic servo screwdrivers or hammer drills. Protective blanket required. Protective goggles required.
Space Next To It 4 1/2 "
Distance Of Side Screw (Metric) 115mm
Depth (Metric) 250mm
Space Below (Metric) 0mm
Distance Of Side Screw 4 1/2 "
Diameter Of The Shaft (Metric) 22 - 115mm
Space Below 0 "
Space Next To It (Metric) 115mm
Spread (Metric) 22 - 22mm