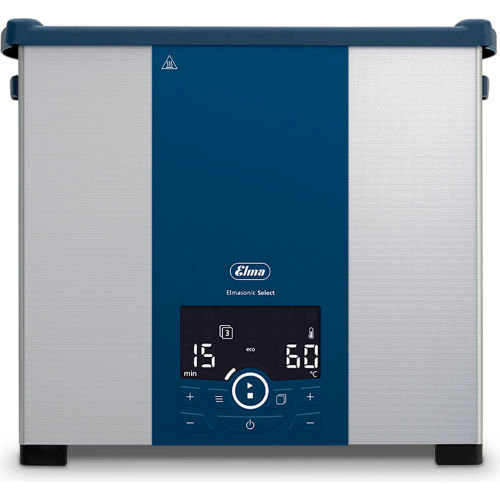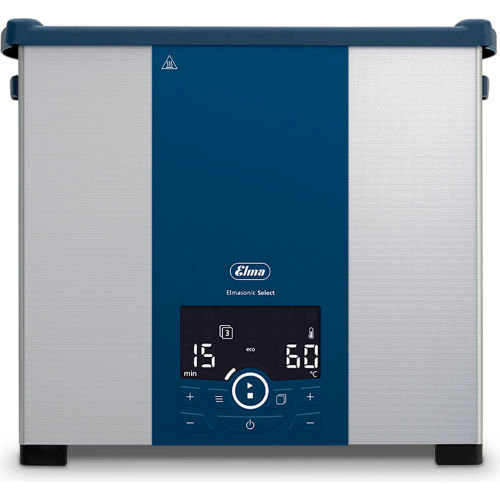 Model #: WBB3120621
MPN #: 110 7003
Elmasonic Select 180 Extra Powerful Ultrasonic Cleaner with Heater/Timer/5 Modes, 5 Gallon
Elmasonic Select Heated Digital Ultrasonic Cleaner, Powerful and Programmable
The powerful Elmasonic Select ultrasonic cleaner has parameters that can be set to optimize parts cleaning, sample preparation, and solvent degassing. The Select models feature a large digital display and store up to 4 programs for quick recall and reproducible results.
Features:
5 ultrasonic modes for powerful, rapid, thorough, reproducible cleaning and mixing
All models have timer up to 6 hours and heater up to 80°C
Stores up to 4 programs for fast and easy call-up
Brilliant digital display clearly shows all operating parameters
Audio/visual signal at cycle completion
The Elmasonic Select ultrasonic bath operates at 37 kHz in five ultrasonic modes: Sweep, Pulse, Dynamic, Eco, and Degas. Sweep mode produces a continuous slight variation of frequency to provide uniform and thorough cleaning of parts. Samples are rapidly mixed, dispersed, dissolved, or homogenized in Pulse mode. Dynamic mode combines Sweep and Pulse to optimize cleaning of parts with stubborn contaminants. Eco is a low intensity Sweep mode for nearly silent, gentle cleaning. Trapped air and gas are quickly removed from solvents or fresh cleaning solution in Degas mode.
The bright digital display shows set and remaining time, set and actual temperature, ultrasonic mode, and program in use. When the run ends the unit emits a signal and displays a check mark. The microprocessor-controlled generator in this sonic cleaner maintains constant ultrasonic power, sensing and adjusting for light or heavy loads in the tank. Digital operation with power tracking ensures reproducible performance from run to run.
All models from 6 liters and up have drains with a valve on the side of the tank for easy access. Temperature is adjustable from 25°C to 80°C (the display can be switched to °F); the timer can be set from 1 minute to 6 hours. The tank cover can be flipped over and used as a drip tray. Power automatically shuts off after 8 hours of no activity. All models up to 28 liters have low liquid level sensor with dry run protection. Users can customize additional parameters not described here by accessing the microprocessor setup.
Dependable, state-of-the-art Elma ultrasonic cleaners are made in Germany.
Certifications: CE, UL, CSA, ISO9001, ISO13485.
Ordering information: All models include covers. Baskets are available for all models and are ordered separately.