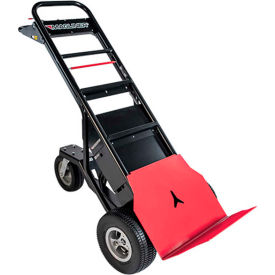 See all 8 items in product family
Magliner® Motorized Trucks Transport Heavy Loads For Industrial Businesses, Worksites, Laboratories, and more.

Magliner® Motorized Trucks are easy to operate, enhance conveyance convenience, and help reduce manual labor. Adjustable rear caster height positions provide versatile loading options for tents, inflatables, cylinders, barrels, flat cases, or boxes. Regenerative brake slows the load in either direction for easy control, even on hills and ramps. Variable speed throttle controls movement up to 4.3 mph in both forward and reverse. Unit comes standard with 36V propulsion system, 800w motor, 36V battery box assembly, and AC charger. Recharge time is 6 hours. Duty cycle is 2 hours continuous and 8 hours intermittent. Motorized hand truck weight capacity is up to 1,000 lbs.
Click for more