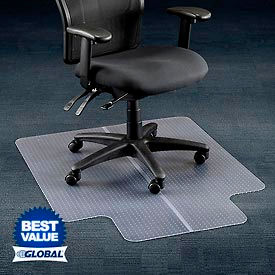 See all 57 items in product family
Chair Mats For Carpeted Floors Prolong Carpet And Flooring Life.

Chair Mats For Carpeted Floors are made of vinyl for long lasting durability and to protect against chair caster wear and tear. Office chair mats also provide easy help maneuvering. Mats have anti-skid textured top and beveled edges to withstand heavy traffic. Chairmat underside has anchor points to keep mat firmly positioned on carpeted surfaces. Mats available for carpet types including Low and Medium Pile Carpet. Carpet thicknesses are 3/4" and 3/8". Available shapes are Rectangular or Rectangular w/Lip. Other dimensions vary per style.


Click for more