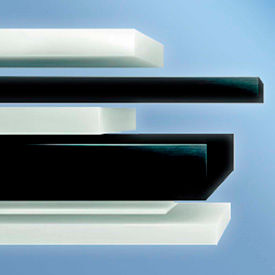 Plastic Rectangular Bar Stock
Plastic Rectangular Bars Provide High Strength, Stiffness, And Low Moisture Absorption For Use In Electrical Components, Gears, Rollers And More.

Plastic rectangular bars are constructed from UHMW or acetal, a semi-crystalline material with a low coefficient of friction and good wear properties, especially in wet environments, for long lasting durability. Bars have a temperature range of 0° to 180°F and a tensile strength of 9,500 PSI. Raw materials are easy to machine and have no centerline porosity in copolymer acetal. Available thicknesses range between 1/8 and 5 inches. Widths range between 1/2 - 6 inches. Lengths are 48", 96" and 120". Colors are Black and Natural.