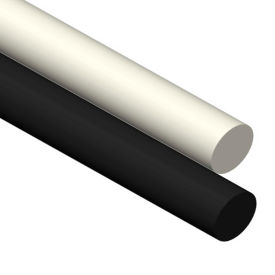 UHMW Plastic Rod Stock
UHMW Plastic Rod Stock Have Exceptionally High Abrasion And Impact Resistant Properties.

UHMW Plastic Rod Stock are made of polyethylene materials (UHMW) are corrosion resistant and provide long lasting durability. UHMW material will outwear all other materials, including metals, nylons, urethanes, and fluoroplastics. Temperature ranges from 0°-180°F with tensile strength up to 5,800 PSI. Diameter dimensions range from 1/4" - 10". Lengths range from 12" - 120". Excellent abrasion resistance, low coefficient of friction and no moisture absorption provide optimum performance. Excellent noise abatement and impact strength. Length tolerance is +/-0.250. Available colors are Natural or Black.