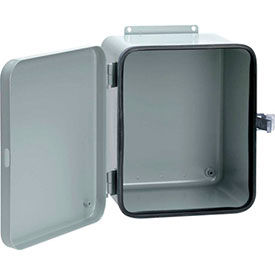 Hoffman Junction Boxes
Hoffman Junction Boxes Are Used Mounting And Protection Hardware For Electrical Equipment And Components.

Hoffman Junction Boxes are made of steel for long lasting durability. Clamp covers provide clamps on all four sides to securely close junction box to protect components in indoor or outdoor applications and are easy to remove for access and modifications. Pushbutton enclosures are designed to hold 30.5-mm or 22.5-mm pushbuttons and switches. Enclosures with more than one column of pushbutton holes have internal detachable hinge. Features oil resistant gasket and external wall-mounting brackets. Continuous hinge enclosure features screw-down clamps for secure closure. Consolets are used for mounting small control or instrumentation devices that requires a 30- or 60-degree surface access for mounting on desktops, pedestals or other flat surfaces. Available types include Pushbutton Enclosures, Clamp Cover, Consolets, Continuous Hinge w/Clamps, Flat & Dome Cover, Hinged Cover, Lift-Off Cover, and Type 12 Screw Cover. Color finishes are Gray, Paint, and Zinc. Dimensions vary per model.