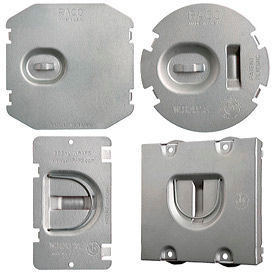 Universal Protector Plates
Universal Protector Plates Are For Use With Mud Rings & Low Voltage Mounting Rings.

Protector plates eliminate drywall compound, debris, paint and drywall router bit from entering box or damaging conductors or devices. Covers entire opening of mud-ring. Made of durable steel. Recessed tab allow easy removal using pliers or flat head screwdriver. Raised Surface ("R" Suffix on Part#) covers all duplex and switch wiring devices. Flat Surface ("F" Suffix on Part#) closes off mud-ring opening and protects wires from router bit tools.