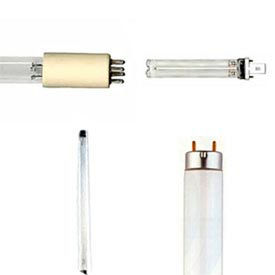 Germicidal Low Pressure UV Lamps
Germicidal Low Pressure UV Lamps Are Used For Various Commercial Or Industrial Sterilization Or Disinfection Applications.

Germicidal Low Pressure UV Lamps are made for long lasting durability and dependability. Emit radiation peaking at 253.7nm (UV-C), which is highly effective to inactivate microorganisms such as algae, bacteria, virus, yeast and mold. Low Mercury dose to meet environmental demands. Used for drinking water, waste water, AC systems, medical facilities, food processing or laboratory applications and more. Available in 3 to 39 watt, T4, T5, T6, T8 or T10 shape, G13, G23, 2G11, E-17, Bi-pin, Single base units with 3000 to 9000 average life hours. Various package quantities.