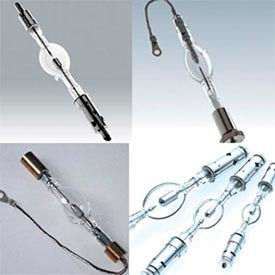 Stage & TV Xenon Short-Arc Lamps
Xenon Short Arcs Are Used For Entertainment, Film And Television Production, Light Guides, Effects, Sports Events, Concert Touring And Architectural Applications.

Xenon Short Arcs provide light generated by a discharge arc burning in pure high pressure Xenon gas between two electrodes for high luminance, efficiency and lasting durability. Designed to provide fast ignition and stable arc. Offers very high color rendering index and extremely high luminance. Available in wattage from 350 to 7,000. Average life hours are 500, 800, 1,000, 1,200, 1,500 and 2,000. Package quantities are 1, 4, 6, 9 and 20.