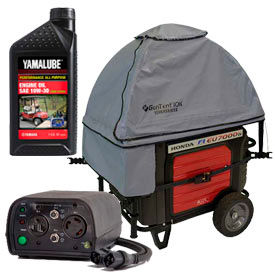 Inverter & Portable Generator Accessories
Inverter And Portable Generator Accessories Are Used For Applications Including Residential, Outdoor, Emergency Services, And More.

Inverter and portable generator accessories are made of high quality materials for long lasting durability and dependability. Accessories provide additional generator equipment including covers, parallel kits, oil, and more. Covers feature a UV-resistant material for generator protection and corrosion resistance. Parallel kits allow efficient dual generator compatibility for increased power. Oil ensures generator operation efficiency for longevity. Color finishes are Black and Blue. Dimensions vary per model.