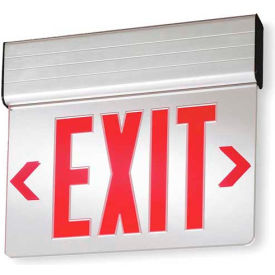 Surface Mount Edge-Lit Exit Signs
Surface Mount Edge-Lit Exit Signs Provide High Visibility Exit Information for Schools, Corporate Offices, Hospitals, and more.

These signs combine a sim, modular design with state-of-the-art technology. These exit signs are made of aluminum for long lasting durability. Simplified installation including field installed directional arrows. Exit signs complement interior design while providing mounting versatility and energy efficiency. Meets or exceeds requirements of UL 924, NFPA 101, Life Safety Code, N.E.C. and I.C.C. standards. Types are Double-Face AC Only, Double-Face Self Powered, Single-Face AC Only and Single-Face Self Powered. Colors are Green and Red. Dimensions vary by model.