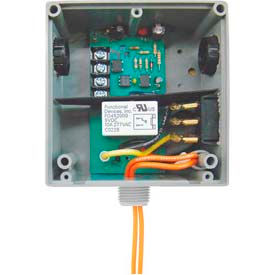 RIB® Low Input/Optoisolated Relays
RIB® Low Input/Optoisolated Relays Provides Ample Power To Controllers.

RIB® Low Input/Optoisolated Relays are made of high quality materials for long lasting durability and dependability. Variety of types and styles available to meet job requirements. Optoisolated series of relays used when controller does not have sufficient coil drive power available to energize relay of desired contact rating. Power to energize relay can be brought to relay on separate pair of wires along with control output of controller. Can also be local power source near relay. UL Listed. Types are Enclosed Relay, Enclosed Relay w/Override, Panel Relay and Panel Relay w/Override. Amps are 10 and 20. Contact types are DPDT, DPST, SPDT and SPST. Voltages and dimensions vary per type. Quantity is 1. 1 Year Warranty.