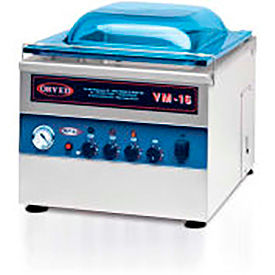 Eurodib / Orved Vacuum Sealers & Machines
Eurodib/Orved Vacuum Sealers and Machines Remove Air From Packaging To Prevent Oxidation And Molding And Extending Freshness.

This collection of machines and bags helps keep food and other contents fresh and safe for storage. Features an automatic vacuum creation/seal with sensor and digital command board. Seal cooling system includes electronic timer. All machines, except EVP Machine have a stainless steel body for use in hotels, restaurants, bars and more. EVP (Eco-Vacuum Pro) Machine has a self-lubricating vacuum pump and ABS plastic body. Allows air re-entry with control switch. Smooth or Channeled Vacuum Bags available to fit sealers specific requirements.