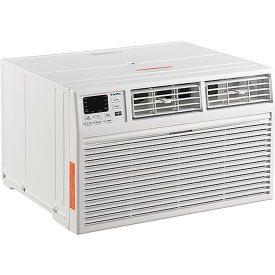 Wall Air Conditioners with Heat
Wall Air Conditioners With Heat Provide Convenient Climate Control For Applications Including Residential, Hospitality, Commercial, and more.

Air conditioners provide ergonomic temperature control, minimize air leakage, and improve energy efficiency. The dual functionality features support heating and cooling capabilities for energy efficiency and application versatility. The auto-restart feature automatically resumes operation at previous setting once power is restored. Includes digital display and timer controls for easy operation and adjustable louvers for airflow directional control. Wall units minimize footprint for limited space locations with few windows. Environmentally friendly R410A refrigerant. Installation kits included for convenient assembly. BTU cooling ranges from 8000 to 15500. BTU heating ranges from 3850 to 11200. Voltages are 115, 208/230, and 230. EER ranges from 9.3 to 9.8. Dimensions vary per model.