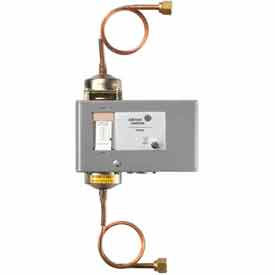 Lube Oil Pressure Cutout Controls
Lube Oil Pressure Cutout Controls Measure Pressure Available To Circulate Oil Through Lubrication Systems.

Lube Oil Pressure Cutout Controls provide pressure protection on refrigeration compressors. Built-in time delay switch allows controls to accurately compensate for ambient temperature and provides pressure pick up on starts and avoids shutdowns. Controls are made with black phenolic resin spring clip snap-on insulated terminal cover for long lasting durability. Accurate repeatability and compact size with trip-free manual reset and dust-tight contact and adjustable set point. P28 Series Controls feature direct-reading scale indication and available replacement timing delays. P45 Series Controls feature universal mounting and ambient compensated time delay.