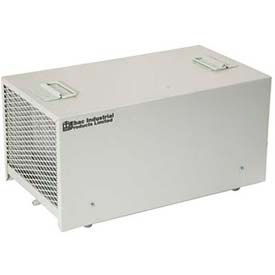 EBAC All Purpose Dehumidifiers
EBAC All Purpose Dehumidifiers Eliminate High Humidity in Warehouses, Factories, Basements, and Other Similar Environments.

These dehumidifiers cure humidity and condensation problems while eliminating costly heating, cooling and ventilation systems for overall energy efficiency. The control knob allows you to adjust the humidity settings to your preference for optimal comfort. Optional models can be permanently mounted and ducted or relocated to accommodate multiple applications. Units are made of multiple materials including ABS polycarbonate, steel, and more. May be used to protect stored equipment from excess humidity. Pints per day range from 11 to 285. Voltages are 110, 115, 220, and 440. Available speeds are 1 and 2. Dimensions vary per model.