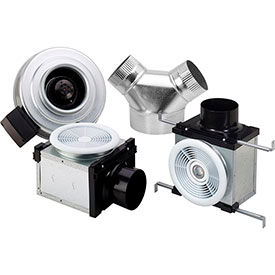 Fantech Bathroom Exhaust Fans
Fantech Bathroom Exhaust Fans Provide Air Ventilation And Circulation For Applications Including Residential, Commercial, Industrial And More.

Fantech Bathroom exhaust fans are made of aluminum for long lasting durability and dependability. Fans provide efficient and quiet operation for application versatility. Units meet local codes requiring damper protected fans installed in fire rated ceilings. May be combined with dual vent lights and mounted over shower, toilet, tub or more. Available styles include Bath Fan, Bath Fan (Exterior Mount) Ceiling Grille, Bath Fan (Exterior Mount) Vent Only Ceiling Grille, Bath Fan Kit, Bath Fan Retrofit Kit and Dual Grille Bath Fan. Color finish is Silver, Silver/Black and Tan. UL listed. Dimensions vary per model.