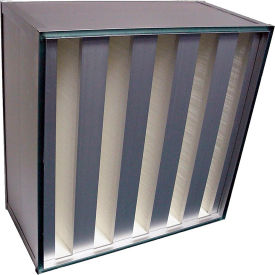 Tri-Pure 2000 HEPA Filters
Tri-Pure™ 2000 HEPA Filters Accommodate medical, pharmaceutical, microelectronics, biotech, food processing, as well as other disciplines.

Tri-Pure™ 2000 HEPA Filters are designed for use in demanding applications where high airflow and high efficiency filtration are required. Most units feature a low resistance – only 1.0" W.G. (249 PA) at 500 FPM (2.5 m/sec), that is a 30% reduction from separator style high capacity HEPA filters. Each model is precisely applied to promote uniform airflow and to eliminate media to media contact and to eliminate the fiber break-off related with different pleating methods. Available Sealants are Gasket Seal and Gel Seal depending on the model. Nominal dimensions, CFM, and additional specifications vary per model.