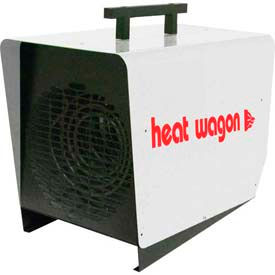 Heat Wagon Electric Heaters
Heatwagon Electric Heaters Are Used For Drying Areas In Hospitals, Laboratories, Construction, Computer Rooms, Food Processing Facilities And Power Plants.

Heat Wagon Electric Heaters are made of steel with a powder color finish for long lasting durability. Quiet and clean. No by-products of combustion provide safe air quality. Heat Wagon electric heaters have variable settings to conserve energy or for temporary heat needs. Internal thermostat provide optimal performance. UL Approved. Available in varying dimensions, kilowatts and CFMs. 120, 240 and 480 voltage.